G. W. Thomas Presents
THE GHOSTBREAKERS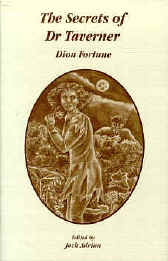 DR. TAVERNER (1926) by Dion Fortune
Dr. Taverner is a Holmes-like investigator who, along with his assistant, Dr. Rhodes, was featured in twelve stories. Dion Fortune is famous in Spiritualist circles as an apologist. She wrote numerous non-fiction books, was a Member of the Golden Dawn as well as other organizations. Fortune based the character of Taverner on her mentor, Dr. William Moriarty.
1. The Secrets of Dr. Taverner (1926)
1.
12. "A Son of the Night"